Welcome to Mandy's Frugal Journey!!!!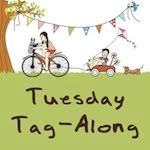 If you are here from Follow Me Back Tuesday or Tag A Long Tuesday... please follow my blog and leave a comment so I can follow you back!!! :o)
So what is my blog about??? I like to post my weekly shopping trips. You can see my recent Walmart & Kroger trips
HERE
&
HERE
.
There are a few Instant win games going on right now too. Go
HERE
to try and win some sobe lifewater, or
HERE
to win free items from Kroger.
So a little about me....
I'm 24---married for over 3 years.
I'm a mommy!!! My lil boy will be 2 next month.
I just graduated college with my Nail technician license.
I just started working at a Spa after taking off work for 9 months. It's an adjustment.
I LOVE to save money.
I like to watch lifetime, cw, and nickelodeon!!! :o) Nickelodeon is for my son!! hehe
I love to read when I can find the time!!!
I love meeting new people and making new friends!!!
I'm a coupon-a-holic!!!
I LOVE animals!!!!